THE CSRA'S TOP CHOICE FOR FIREPLACES, GRILLS, OUTDOOR KITCHENS, AND SO MUCH MORE.
If you can dream it, FlamePro can build it. With more than 30 years of experience in the hearth industry, this is more than just a business for us – it's a passion. We are dedicated to providing our customers with the best possible service and highest quality products. We take pride in our work and love being able to bring warmth and peace into anyone's home, whether it's with classic gas lanterns, a beautiful fireplace, or a stunning fire feature.
Come browse our 3,000 sqft showroom for inspiration and let our team help bring your vision to life.
A fireplace is a central focal point of your home, providing warmth & ambiance. Finding the right one, whether indoor or outdoor, can make all the difference. Our team of experts can help you find the perfect fireplace. Stop in our showroom to get inspired by our large selection of working fireplaces.
Make a statement with stunning fire features, such as custom fire bowls, tables, or beautiful gas lanterns. Browse our showroom or work with us to create something truly unique.
GRILLS & OUTDOOR KITCHENS
Create your backyard BBQ oasis with a high-end grill or an impressive outdoor kitchen. We are licensed residental contractors and can make your vision a reality.
MORE SERVICES AND PRODUCTS
GAS
LOGS
Our team of highly-trained, certified professionals can help you choose the best gas logs for your fireplace and can complete the installation if needed.
FIRE
PITS
Whether you want a gas or wood-burning fire pit, you can find the perfect fit for your space or work with us to design one just for you.
FIREPLACE
INSERTS
An instant upgrade to your fireplace, without sacrificing the warmth and glow of a wood burning fireplace. Our gas inserts fit inside an existing masonry or manufactured wood burning fireplace, providing an instant upgrade. Greater performance, safety and convenience.
GAS
LANTERNS
Gas lanterns make a statement of elegance that invites the eyes of your guests and passersby. Let us help you transform your outdoor lighting with our beautiful, hand-crafted gas lanterns. Visit our showroom today to see our display of gas lanterns.
HEARTH
ACCESSORIES
FlamePro offers a variety of stylish, custom fireplace doors and screens, hundreds of custom mantels, tool sets and fire glass.
OUTDOOR
PRODUCTS
We have everything you need to put the finishing touches on your backyard resort, including teak furniture, pergolas, outdoor heating, sun shades, synthetic turf and so much more.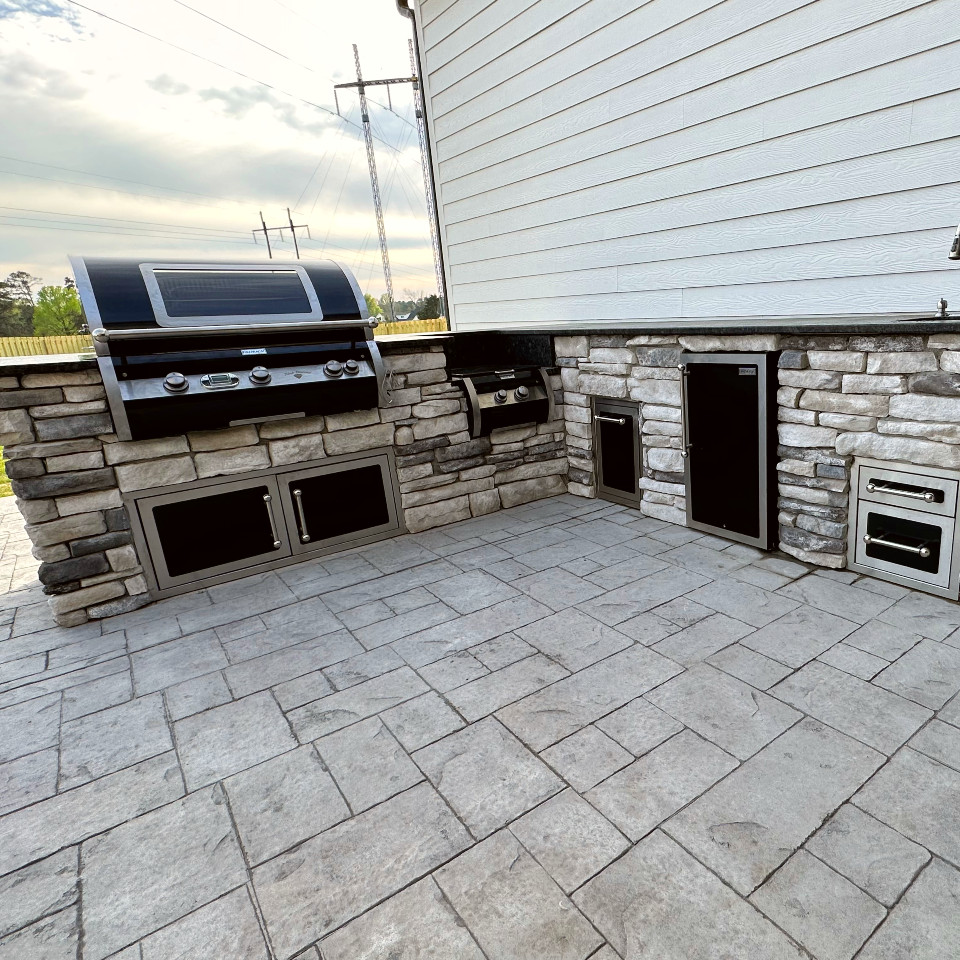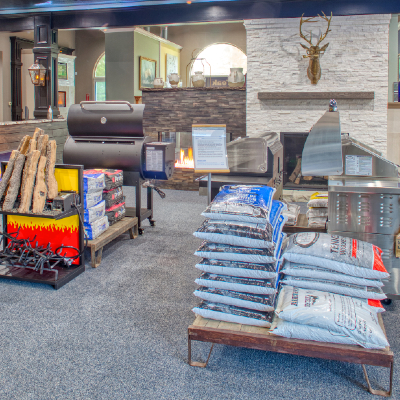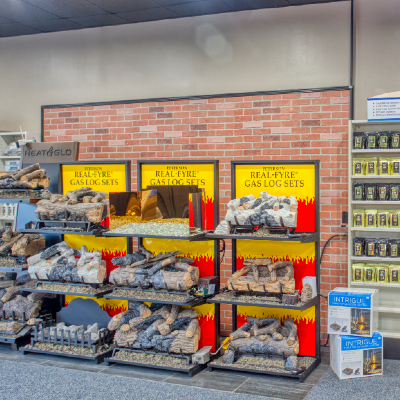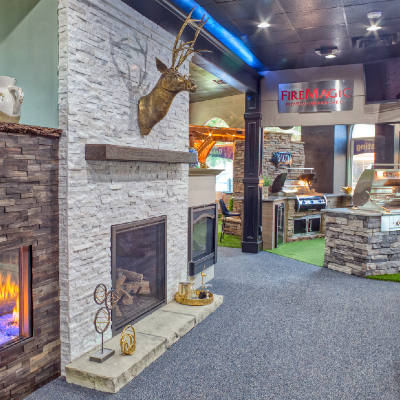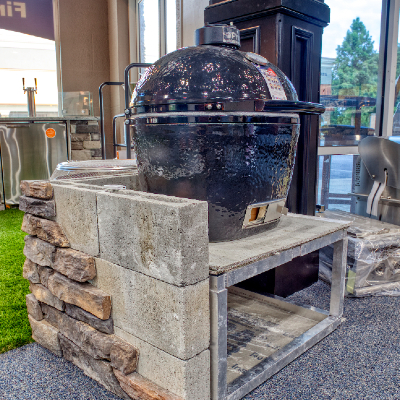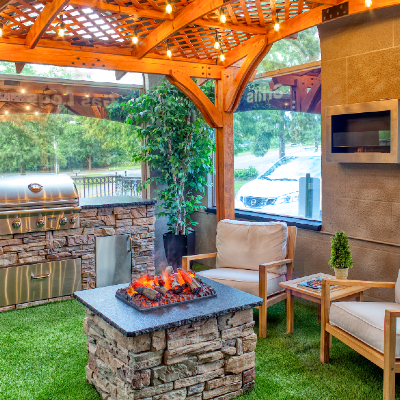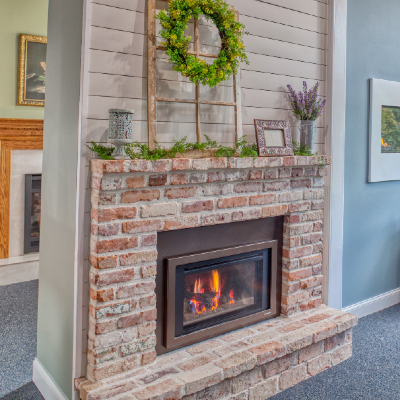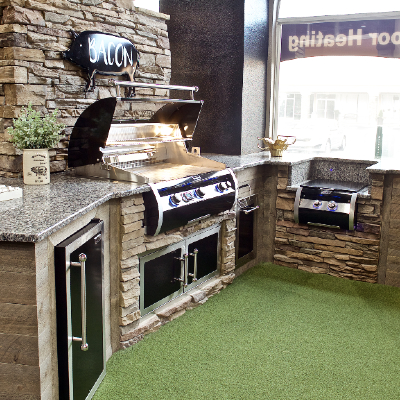 WhAT OUR CUSTOMERS ARE SAYING
Danny
Martinez, GA
Mike was very professional and did an excellent job on replacing my 30-year-old wood burning
stove pipe and chimney.

Michael
Augusta, GA
FlamePro put together a custom fire pit that was better than the vision that I initially had.

Chris
North Augusta, SC
We had our old gas logs replaced with a new set from FlamePro! The experience was great from
start to finish. Highly recommend!

Stephanie
Thomson, GA
FlamePro's customer service greatly exceeds that of their competitors!

Matt
Grovetown, GA
I contacted Mike and requested a quote on a custom outdoor kitchen cabinet. Mike came to our
home, listened and built an excellent cabinet. His work is meticulous and far exceeded my
expectations. He has followed up several times to ensure it is working great. I highly recommend
Mike and the fine folks at FlamePro CSRA!!

Debbie
Aiken, SC
Fantastic experience, exceptional customer service! We've been looking for a quality grill for
quite sometime and have shopped around quite a bit. Luckily, I discovered FlamePro. They have
a beautiful showroom with lots of grills at different price points along with several outdoor kitchens
to give you some great ideas.

Jeff
Evans, GA
Worked with Mike to get a quote for renovating a wood burning fireplace and installing gas logs.
After working through the quote and all of the details, Mike started the job. Well, it went great,
Mike was helpful and pleasant to deal with, very professional and you can tell he has a passion
for his work. This passion came through in the workmanship and details.

Shawn
North Augusta, SC
What a great experience working with Mike Lantz! We had problems with our Heat & Glo
fireplace from another dealer, but Mike stepped in and went above and beyond our expectations!
And his new showroom is amazing. Already have more ideas that we'll be using in our new
outdoor kitchen.

Al & Charlotte
I visited several businesses before deciding on FlamePro, but was swayed by Mike and Theresa's attention to detail and the fact that they handled every aspect of the job–no subcontracting required…. I would strongly recommend FlamePro if you're interested in a quality product, high-level workmanship, and knowledgeable, friendly personnel.

Dana
We are very happy with the service we got from FlamePro CSRA. We purchased remote control gas logs and an unfinished cedar mantle. The advice and expertise shown by the staff were much appreciated and helped us create the beautiful fireplace that we had envisioned.

Kenny
I am extremely happy with the professionals at FlamePro CSRA.  I want the cold weather to come back so I can use my fireplace more.  It is tied to Alexa, has the remote, blower, lights, brick accent, etc.  It looks and works great for us.  Thanks to Mike and his crew!

Shawn
What a great experience working with Mike Lantz! We had problems with our Heat & Glo fireplace from another dealer, but Mike stepped in and went above and beyond our expectations! And his new showroom is amazing. Already have more ideas that we'll be using in our new outdoor kitchen. You've GOT to check-out FlamePro in Furys Ferry Station.

A FEW OF OUR TRUSTED BRANDS